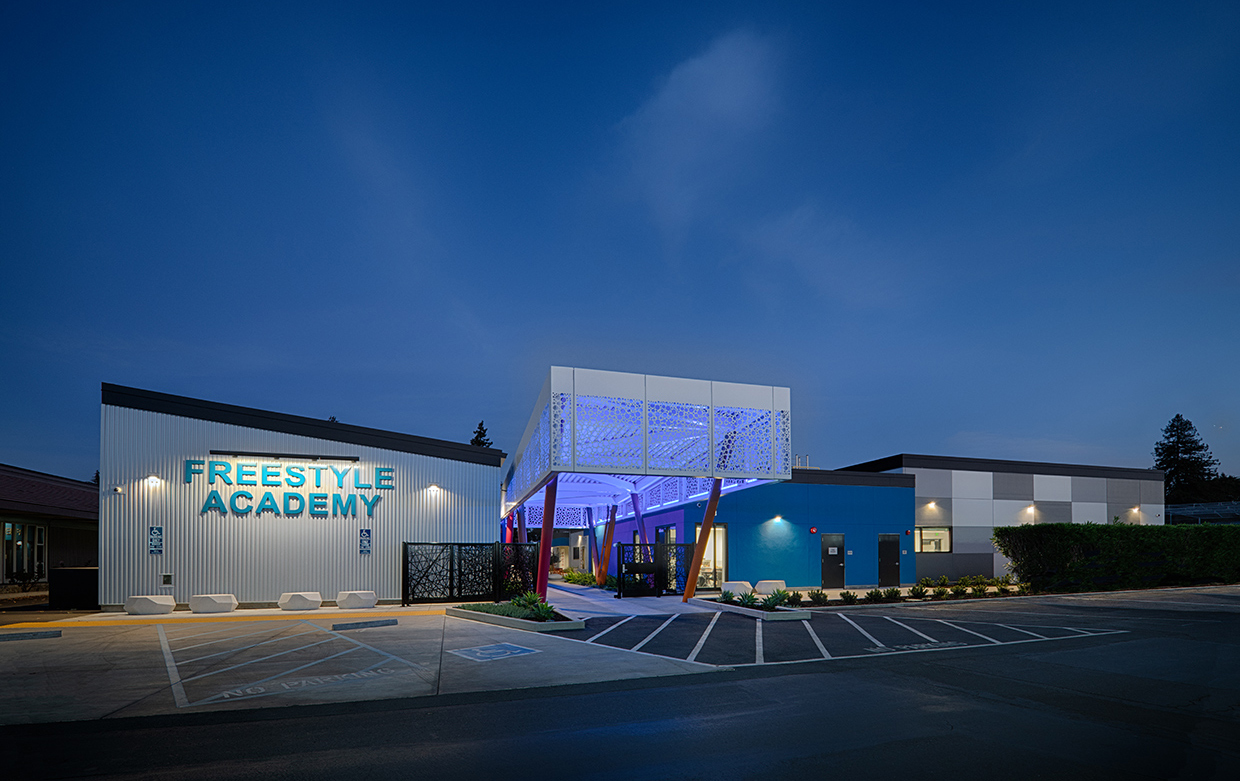 Designed by Quattrocchi Kwok Architects, several projects are completed at Freestyle Academy and Mountain View and Los Altos High Schools
Mountain View, Calif., Nov. 16, 2023 – Mountain View Los Altos High School District (MVLA) celebrated the completion of several new facilities across its campuses at a ribbon-cutting event on November 14. The new facilities mark the completion of Phase 2 of a multi-phase improvement plan.
The new facilities include a Student Services Center and Auxiliary Gymnasium at Mountain View High School (MVHS), a Student Services Center at Los Altos High School (LAHS), and three classroom buildings at Freestyle Academy of Communication Arts & Technology (Freestyle Academy).
Quattrocchi Kwok Architects (QKA) and RGM Kramer, Inc. serve as the designer and construction manager, respectively, for the campuses' ongoing facility improvement projects.
"Our school community is excited about the continued upgrades of our facilities," said Dr. Nellie Meyer, MVLA Superintendent. "These facilities are not just structures; they are catalysts for inspiration, laboratories of innovation, providing an environment where curiosity thrives."
"As we invest in our facilities, we invest in the limitless potential of our students," Meyer added, acknowledging that "the spaces we create today shape the thinkers, leaders, and learners of tomorrow."
The projects were funded through Measure E, a $295 million bond passed in June 2018.
"We extend our sincere thanks to our local taxpayers who invested in the future through their support of the bond measure," said Meyer.
New Student Services Centers at both LAHS and MVHS serve as central hubs for each campus's administrative offices, student union, and student services, including academic support, community and mental health resources, counseling departments, and college and career centers. MVHS's Student Services Center will also house four classrooms, a cafeteria, and a spacious and modern dining area.
Also recently completed on the MVHS campus, the new Auxiliary Gymnasium provides much-needed space for school athletics, community events, and competitions. The gym features all-electric mechanical systems and improved indoor air quality through material selection and CO2 detection. The designs also paid special attention to fire prevention and safe public access.
All the new facilities are on target to obtain a Leadership in Energy and Environmental Design (LEED) Silver certification. The third-party green building certification program is the globally recognized standard for the design, construction, and operation of high-performance green buildings.
At Freestyle Academy, three new single-story digital arts classroom buildings comprising 10,500 sq. ft. support and expand the school's unique communications and multimedia curriculum.
The new buildings replaced five outdated portables, allowing for expansions of in-demand programs in digital media, film, design, and animation, new English classrooms, and photo and recording studios. These state-of-the-art facilities allow for instructional flexibility and include professional-grade technology and the proper acoustic treatments.
The classrooms are configured around a central student plaza to serve as outdoor gathering study and socializing spaces and provide a venue for performances and exhibitions. Freestyle Academy is a stand-alone campus serving district juniors and seniors who can apply to enroll part-time in its competitive program concurrently with their home campus.
"We have appreciated the partnership and guidance of QKA and RGM Kramer on these important projects," Meyer noted. "It has been essential in successfully navigating simultaneous projects and effectively utilizing bond funding."
"It is an honor to be invested in the ongoing transformation of the MVLA campuses and we are particularly thankful for the close collaboration with the district, as well as faculty, staff, and students," said QKA Principal Emeritus Mark Quattrocchi, FAIA. "We set out to achieve highly tailored spaces that would provide comprehensive and forward-thinking student services, and namely, for Freestyle, deliver inspired spaces for various arts disciplines – and I believe we've accomplished this goal. These facilities complement the previous and future phases of overall improvement efforts districtwide."
The completion of the Student Services Centers, the MVHS Auxiliary Gymnasium, and the Freestyle Academy facilities mark the second phase of ongoing campus improvements for MVLA. Phase 1 projects included new classroom buildings and lab wings at both MVHS and LAHS and an Auxiliary Gymnasium on the LAHS campus. The final phase will encompass the modernization of cafeteria spaces and gymnasiums at both MVHS and LAHS.
"As involved partners in the overall scope of improvements across MVLA's sites, the development of these projects – from conceptualization, overcoming obstacles to ultimate delivery – was a result of teamwork at every stage," said Patrick Maravelias, vice president of RGM Kramer, Inc. "It is a great triumph to see students embracing the facilities this school year."
---
About Mountain View Los Altos High School District
The Mountain View Los Altos High School District (MVLA) reflects the diversity, ambitions, and spirit of Silicon Valley innovation. We are proud to serve approximately 4,400 students from Mountain View, Los Altos, and Los Altos Hills communities. MVLA comprises two comprehensive high schools, an alternative high school, an adult education center, the Freestyle Academy for Arts & Technology, and Middle College. Our comprehensive schools, Los Altos High School and Mountain View High School are consistently ranked in the top 500 high schools nationally.
The MVLA High School District is located approximately 15 miles north of San Jose and 40 miles south of San Francisco. Our communities are home to various high-tech firms, including Google, Microsoft, LinkedIn, Intuit, Synopsys, and NASA-Ames. Learn more at www.mvla.net
About Quattrocchi Kwok Architects
QKA provides comprehensive master planning and design services for K-12 and higher education, historic renovation, and community facilities in Northern California. With more than $2.5 billion in projects completed in its 37-year history, QKA's award-winning portfolio reflects a commitment to design that emphasizes environmental sustainability and community impact. Building Design + Construction has recognized QKA as one of the nation's top K-12 and BIM (building information modeling) architecture firms. Engineering News-Record has called it one of America's top design firms. Majority employee-owned through an Employee Stock Ownership Plan (ESOP), visit qka.com to learn more.
About RGM Kramer, Inc.
RGM Kramer, Inc. specializes in managing the design and construction of public schools, community colleges, municipalities, and city and county facilities. Having served over twenty-five school districts in the greater Bay Area, RGMK is the resident expert in bringing districts from ballot measures to ribbon cuttings while providing specialized attention to the needs of public facilities. RGMK manages both new construction and modernization programs of varying types and complexities and is proud to maintain a high level of customer service at all times. See completed projects, client testimonials, and more at rgmkramer.com.
---