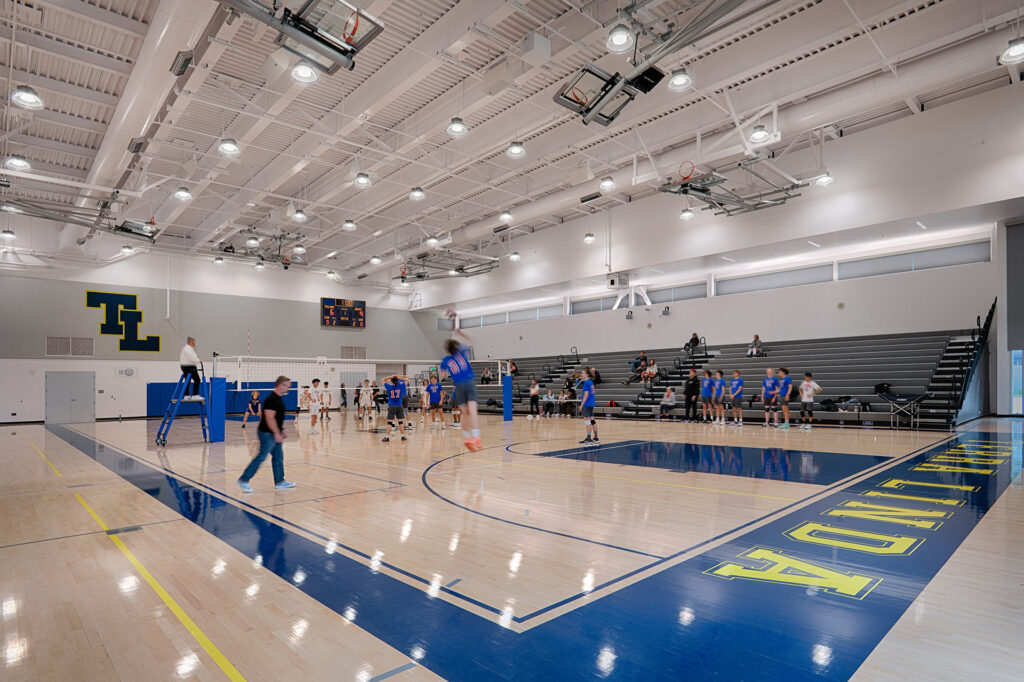 ---
San Rafael, Calif., Apr. 19, 2023 – San Rafael City Schools (SRCS) recently marked the grand opening of Terra Linda High School's (TLHS) new competition gymnasium. Brought to life by design-build team Quattrocchi Kwok Architects (QKA) and BHM Construction (BHM), the campus-defining facility will serve as a home for athletic events, school-wide assemblies and a community resource in emergency situations.
Complete with a weight and cardio conditioning room, team rooms, student physical trainer facilities and conference areas, the gymnasium offers a regulation-size competition venue for basketball, volleyball and other school athletic teams. For the first time in many years, TLHS is able to host league sporting events – a prospect that includes home tournaments and the comradery and revenue they represent. The 22,000 sq. ft. project also introduces enough space to host the school in its entirety, making full campus gatherings and presentations possible.
"This project successfully creates an improved new frontage environment for the TLHS campus, as well as for the neighborhood with the addition of a new two-way bicycle pedestrian pathway and underground utilities," said Jim Hogeboom, superintendent of San Rafael City Schools. "In addition to providing comprehensive California Interscholastic Federation (CIF) regulation facilities to host athletic events, the new gymnasium will double as a much-anticipated community safety refuge in the event of emergency situations. With gratitude for the support that made Bond Measure B and this project possible, we hope to provide essential resources to our community at-large."
The result of a shared vision and collaborative effort on behalf of the district, school faculty and the design-build project team, the facility was designed to meet Collaborative for High Performance School (CHPS) guidelines with sustainability a top priority. The building is the first SRCS facility to make use of reclaimed water from dual piping for sanitary facilities and irrigation. It also includes daylight-responsive lighting controls, low-flow plumbing fixtures and high-efficiency HVAC equipment and control systems powered by 60 percent renewable energy. The project is solar-ready and can accommodate installation of a microgrid battery system in the future.
"The strong partnerships forged between QKA, BHM and the district resulted in an outstanding new facility which will enhance the TLHS campus and school community," said QKA Principal Emeritus Steve Kwok. "Our expertise in high-performance education buildings allowed the design-build team to center the district's priorities around making the building a safe and efficient campus landmark. Great emphasis was placed on the building's environmental impact, including a permanent display on its sustainable features installed in the gymnasium lobby, which will serve as a learning tool for all entering the building."
---

About San Rafael City Schools
San Rafael City Schools ensures that every student receives an empowering education through skillful individualized instruction and high expectations, enabling each student to embrace their own learning, think critically and experience success. Our welcoming school climate ensures that our diverse community of students, families, staff and community members are treated with dignity and respect, creating opportunities for participation, engagement and support. Every student graduates college- and/or career- ready, able to take responsibility for a future that includes life-long learning. SRCS includes two districts, San Rafael Elementary School District and the San Rafael High School District, and oversees twelve schools in total.
About BHM Construction
In just over 15 years, BHM Construction has progressed into one of the leading public works contractors in Northern California. Specializing in new construction and modernization for school districts and municipalities, they have amassed an award-winning project portfolio exceeding $1 billion dollars in the previous five years alone. With award winning preconstruction and construction services, they continue to excel within the industry, through a dedication and commitment to quality, demonstrated on every project. Through public service and engagement, their goal is to enhance the communities in which they live and work, by constructing and improving upon buildings that serve a purpose to the citizenry.
From project planning to large-scale construction, BHM is here to serve your building needs. Please visit bhmconstruction.com to learn more.
---