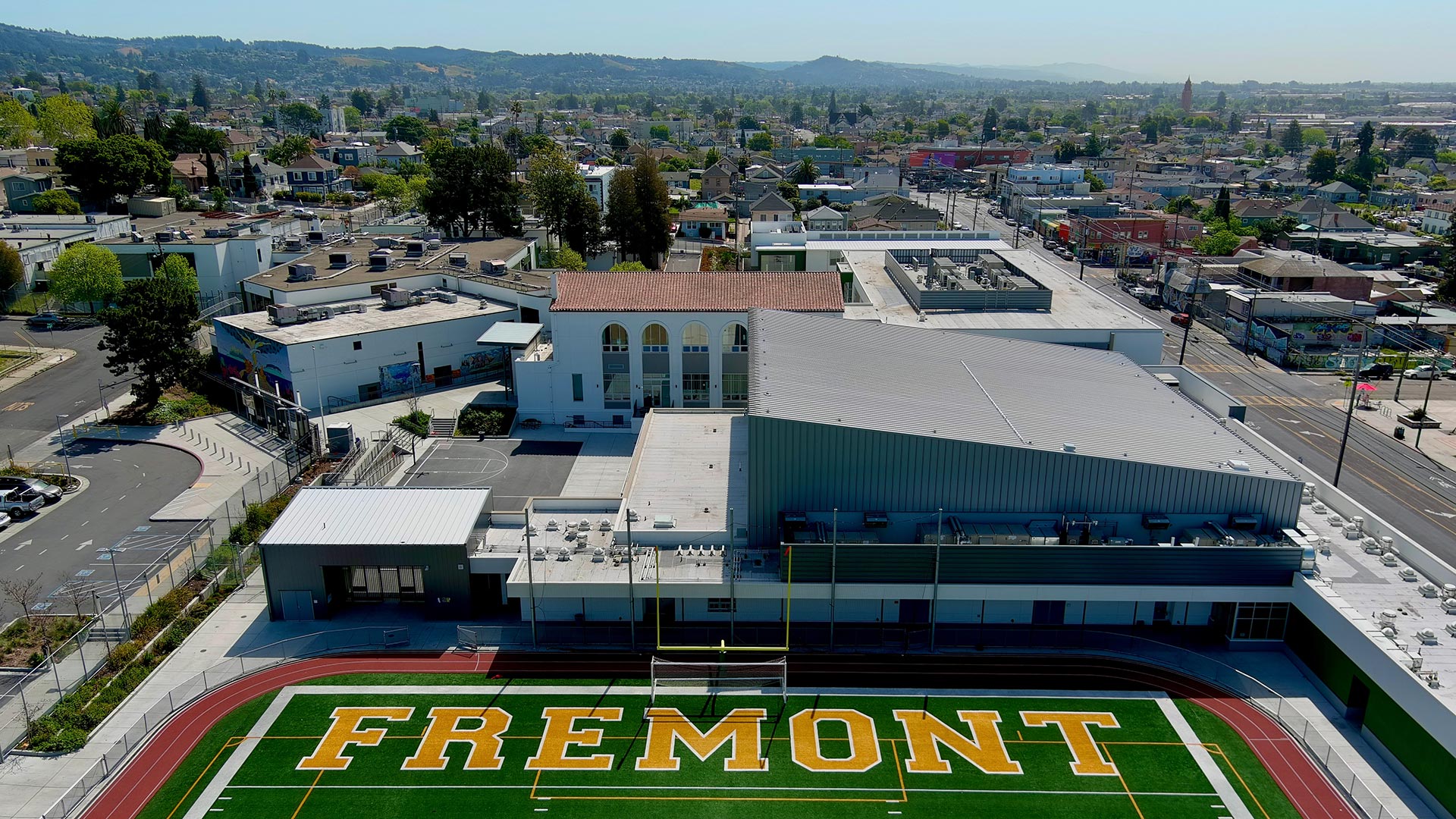 Oakland, Calif., Oct. 4, 2021 – Students, teachers and staff at Fremont High School (FHS) in the Oakland Unified School District (OUSD) recently returned to significant new and modernized facilities for in-person learning. Designed as a joint project by Quattrocchi Kwok Architects (QKA) and LCA Architects (LCA), the campus now boasts new and updated academic spaces, including state-of-the-art science labs and Career Technical Education (CTE) classrooms, as well as a new athletics complex and a Wellness Center. The project was built as a joint venture between Cahill Contractors and Focon.
"Fremont High School is blessed to finally have facilities that match the beauty and potential of its students," said Co-Principal Tom Skjervheim. "Our CTE labs for multimedia/broadcasting and architecture/construction have exceeded our dreams of what we imagined for our students and are truly authentic industry spaces that professionals would be jealous of. Our science labs, gymnasium, stadium, Wellness Center and remodeled classrooms are now state-of the-art and we are grateful to the entire project team for helping to make this a reality for our community."
Totaling 45,000 square-feet of new construction and 40,000 square-feet of modernization, the project includes a new modular 12-classroom building, as well as the complete renovation of an existing classroom building and historic campus library. In addition to seismic upgrades, new exterior skin and building systems, the building's updated interior classroom layout made way for science labs and specialized CTE classrooms for Digital Media, Architecture and Engineering, boasting an audio/video recording studio, drafting lab and maker space. Updates to the FHS campus layout allowed for the addition of a parking lot, entry gate and revamped reception area including a conference room and staff work space.
A complete upgrade to FHS' athletics and wellness offerings, the project also includes a new gymnasium, fitness center and regulation size football stadium that will allow the school to host home games for the first time in its history. Amenities include sports lighting, bleachers, press box, concessions and locker rooms. Both the gymnasium and stadium are equipped with video scoreboards with fiber connections to the Digital Media classroom for live production capability during games and student training and feature murals by a local Oakland artist. A new Wellness Center provides on-campus medical and dental services.
"This project was an ambitious undertaking in that it touched so many facets of the campus, truly resulting in a completely new experience for students, staff and the community," said QKA Principal and President Aaron Jobson. "Collaboration with our seasoned partners allowed the team to achieve OUSD's desire for enhanced and specialized facilities to accommodate modern programs and its growing enrollment, with a focus on sustainability and career readiness."
"Community input was especially important to the planning and design of this project," said LCA CEO Carl Campos. "Fremont High School is a local icon dating back to 1905 and it was critical to honor the community's sentiments and the campus' historical significance. Students played an important role, contributing design ideas and project support. Ultimately, it was through the combined dedication of the District and campus leadership, architects, engineers and contractors that the vision for Fremont High was realized."
Sustainably-designed, the project team made ample use of daylighting and natural ventilation, ultimately rendering the project Collaborative for High Performance Schools (CHPS) Verified and Solar Ready. The project was funded by Bond Measure J.
About the Oakland Unified School District
In California's most diverse city, Oakland Unified School District (OUSD) is dedicated to creating a learning environment where "Every Student Thrives!" More than half of our students speak a non-English language at home. And each of our 80 schools is staffed with talented individuals uniting around a common set of values: Students First, Equity, Excellence, Integrity, Cultural Responsiveness and Joy. We are committed to preparing all students for college, career and community success.
To learn more about OUSD's Full Service Community District focused on academic achievement while serving the whole child in safe schools, please visit OUSD.org and follow us @OUSDnews.
About LCA Architects
At LCA we are passionate about design! Our philosophy is simple, we listen and provide solutions to meet our client's functional needs and design aspirations, within their budgets, occupied on schedule. To get there, we have cultivated high levels of expertise in needs assessment, conceptual design, communication with stakeholders and government agencies, consensus building, building technology, and construction administration. Our collaborative process keeps all team members sharply focused on integrated goals, so that each constructed project is a custom-fit to our client's specific needs. Creating education, community and multi-family buildings since 1974, LCA excels in both the innovative and the technical aspects of architectural design.
About Cahill Contractors
Cahill Contractors is a majority family- and woman-owned general contractor with experience in multi-family residential, education, hospitality, and commercial construction. We have been building lasting relationships and quality structures with integrity since 1911. We serve as a trusted partner to our clients, committed to their success from early in preconstruction through construction and beyond. Our team approaches every project with a builder mindset and takes tremendous pride in their work and is consistently guided by Cahill's five core values: Safety, Integrity, Commitment, Collaboration, and Continuous Improvement.
---