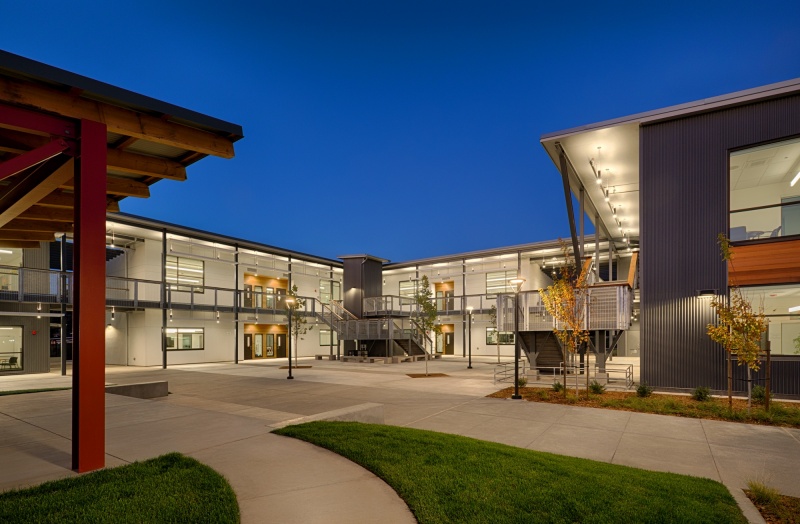 Santa Rosa, Calif., Oct. 27, 2021 – Cardinal Newman High School students, teachers and staff returned to campus this year to the completion of a new two-story classroom building, the largest piece of the school's rebuilding and expansion campaign following 2017's Tubbs Fire. Quattrocchi Kwok Architects (QKA), designer and master planner for the school's ongoing expansion and fire rebuild, partnered with associated design architect Bisbee Architecture + Design and general contractor Wright Contracting to bring the 24,000 sq. ft. classroom complex to life.
"Celebrating the completion of this striking campus addition contributed to the renewed hope and excitement this school year has brought," said Cardinal Newman President and Interim Superintendent Linda Norman. "We extend our gratitude to our generous and supportive donor community and to our local project partners who remained flexible amidst the backdrop of the past year and who share our enthusiasm for seeing students regain a sense of normalcy after so many challenges. We are thrilled to watch students and faculty take full advantage of the resources this modern space provides."
Cardinal Newman's new two-story classroom complex introduces critical space for additional academic programs, while eliminating the need for temporary portable learning spaces the campus had been utilizing. Eighteen classrooms, an art studio, four student collaboration rooms and two staff collaboration rooms surround a central courtyard and outdoor learning areas. Sustainable features include energy efficient lighting and mechanical systems, low-flow plumbing fixtures, solar shading, operable windows and natural daylighting. Sustainably sourced materials are central to the complex's design with student health and wellness top of mind. The surrounding landscaping implements drought tolerant design and includes systems for storm water retention.
"The opening of this classroom complex marks significant progress in Cardinal Newman's overall facilities master plan and reveals enduring commitment by administration, faculty and the community to provide students healthy, flexible and well-equipped spaces to learn," said QKA Principal John Dybczak. "It's been an honor to guide this collaborative effort and to see our passion for next-generation learning environments support the school's educational vision and the healing of our community."
This year, Cardinal Newman broke ground on a new Student Life Center & Library, and in 2019, the school saw the completion of its first rebuilding project, the North Classroom Building.
About Cardinal Newman High School
Cardinal Newman is a Catholic, college preparatory high school. The mission is to educate students in the wholeness of mind, body, and soul through the teachings of Jesus Christ as proclaimed by the Catholic Church. Cardinal Newman students learn to apply leadership skills and talents in service to others. Each student is challenged to work to his or her highest potential in the lifelong pursuit of learning and excellence.
About Bisbee Architecture + Design
BISBEE Architecture + Design is an award-winning regional design studio founded in 2014, serving clients and communities in Northern California. The studio partners with expert design teams to reach client goals for sustainable living, working, and learning. Current local community clients include Santa Rosa Memorial Hospice, Sonoma County Library, and the Children's Museum of Sonoma County. Bisbee A+D is honored to be involved in several fire recovery projects in Sonoma and Napa Counties. www.bisbeearchitecture.com.
About Wright Contracting
Since 1953, Wright Contracting has built a reputation as the leading commercial construction company in the North Bay. A tradition of the highest quality craftsmanship has earned Wright Contracting the opportunity to build many of the North Bay's notable landmarks including schools, hospitals, event centers, wineries and more. With offices in both Santa Rosa and Napa, Wright Contracting is well-situated to work on projects throughout the North Bay. The company's commitment to providing clients with the highest level of service has been the cornerstone of its successful business history. Visit www.wrightcontracting.com to learn more.
---